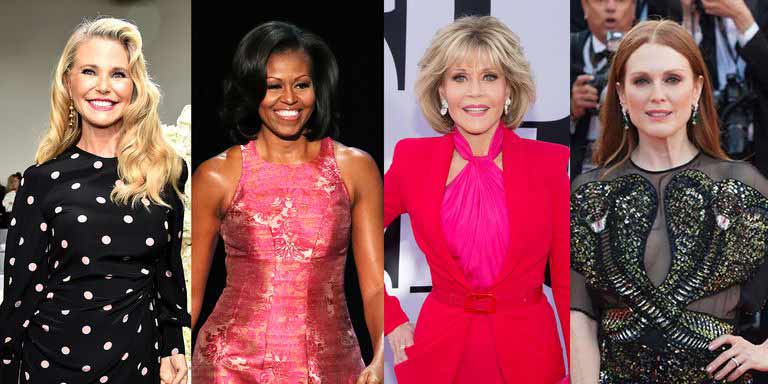 If there's one thing that celebrity stylists agree upon it's that age has nothing to do with style. Great style is possible no matter how old you are—the key is knowing how to flaunt your body and sensibility in a way that works for you. Here, we've rounded up the most helpful tips from top stylists who have worked with chic sophisticates like Maye Musk, Oprah, and Christie Brinkley. Consider this your new guide as you navigate the complex world of fashion.
Start with the staples.
"I'm not into trends for people of any age, really. Everyone should be timeless, chic, and sophisticated. Some staples you should have are a white blazer, a cream blouse, and a black sweater; pieces that won't fade away." —Ashley Pruitt
Opt for daintier jewelry.
SHOP NOW Bony Levy Diamond Necklace, $1,095
"A lot of women tend to wear big statement necklaces and I think that more often than not it looks unsophisticated and cheap. It can make an outfit pop in the wrong way. It's chicer to err on the side of minimalism." —Andrew Gelwicks
Get yourself a good bag.
SHOP NOW Mark Cross Caviar Purse, $1,995
"Accessories are fun! While they are of course functional, they can be transformational for your outfit. A lot of designers are playing around with bag sizes—oversized, super tiny. A woman carrying a 'power' bag demands attention." —Andrew Gelwicks
Make sure you're wearing the right bra size.
"More than anything, it's really important to have your bra properly fitted. That's a staple every woman should have in their closet and they should be fitted for it rather than just going to the store and guessing their size." —Paul Cavaco
Don't be afraid of color.
"Jane Fonda wore this amazing Brandon Maxwell gown to the 2017 Emmys and it was a huge pop of color. Since seeing that on her I'm so into it, especially on older people. It's sophisticated and young but not immature or obnoxious." —Andrew Gelwicks
Buy a white button down.
SHOP NOW Madewell Tie Front Shirt, $79.50
"A crisp white button down is the perfect piece every woman should have. It looks polished but can be worn running errands, and it can go from day to night. It's a hero piece." —Negar Ali Kline
Find the right jeans.
SHOP NOW Rag & Bone Jeans, $116.98
"Dark denim is more polished whereas a light denim reads a bit more casual. In a professional setting, dark denim is a safe choice but more important than the wash of the denim is the fit." —Negar Ali Kline
Have a go-to pair of heels.
SHOP NOW Sam Edelman Pumps, $83.98
"Sam Edelman does a great job playing around with color. They have a lot of shoes that are good for a staple but also a statement." —Andrew Gelwicks
Wearing a skirt? Mind your knees.
"I think that after a certain age your skirt should really be at or below the knee, no matter how beautiful your legs are. It looks more appropriate and it doesn't look like you're trying to look young." —Paul Cavaco
Flaunt a fresh manicure.
SHOP NOW Smith & Cult Nail Polish, $18
"Having your nails manicured goes a long way. It's really all of the little details that make you look good." —Paul Cavaco
Make a statement with your watch.
SHOP NOW Cartier Watch, $4,000
"Fashion is always changing but you should be sure to have a nice watch. Maybe you can't afford a classic Cartier tank, but if you know what it looks like then you can easily find something similar." —Paul Cavaco
Chose where you want the most attention.
"A lot of the women I dress have a certain area of their body that they don't feel as confident of. If you're going to be more conservative with one part of your body then you need to compensate by highlighting another area. Have a leg moment if you don't want to draw attention to your shoulders." —Andrew Gelwicks
Shapewear is key.
SHOP NOW Spanx Shorts, $58
"Wearing the proper shapewear underneath everything helps to give you smooth lines." —Julia Perry
Don't let anybody tell you not to take risks.
"While women at fifty know who they are and are authentic to their style, I think there's no reason why they can't be a little daring and try something new. Whether that be a print or a new color, I don't think there should be limitations." —Negar Ali Kline
Don't forget about accessories.
SHOP NOW Gucci Silk Scarf, $495
"A scarf is extremely multi-purpose. A silk scarf can be tied at the neck or draped over your shoulders in the evening." —Negar Ali Kline
Chose versatile shoes.
SHOP NOW Sam Edelman Loafers, $71.98
"Loafers are the perfect shoe to finish your look. They're so multi-purpose because you can wear them to run errands in then to meet friends for dinner." —Negar Ali Kline
Mix it up.
"Carolina Herrera wears a white button down with a ball gown skirt and it's so chic. It's sort of unexpected to pair those two items together but it works really well." —Negar Ali Kline
Use textures to guide attention.
SHOP NOW Vince Camuto Midi Dress, $83.40
"Stomach and arms are typically the two spots women are most worried about. If you're wearing a dress with draping or ruching it can help the stomach area." —Ashley Pruitt
Define your waist.
"Typically speaking, oversized items are hard to pull off. It's usually flattering to define your waist." —Negar Ali Kline
Default to black heels.
"Every woman should have a nice pair of black high heels." —Paul Cavaco
Don't be afraid of prints.
SHOP NOW DVF Pencil Skirt, $248
"I wish older women would wear more colors, prints, and designs. I think a lot of women feel like they kind of have to disappear or turn down their look, but that's not true." —Andrew Gelwicks
Good hair can make all the difference.
"You want to keep yourself looking current and having a great hair cut and color makes a big difference." —Paul Cavaco
Pay attention to fit.
"When you reach a certain age it's especially important that everything is fitted for you.If clothes are fitted well then a lot of the things that are problematic are no longer problematic." —Paul Cavaco
Embrace the peplum.
"Peplum tops are wonderful and women over fifty can really benefit from their shape. They can easily go from casual to dressy." —Julia Perry
Don't forget the little things.
SHOP NOW Victoria Beckham Sunglasses, $355
"Keep all of the little details crisp and they will make all the difference in the world." —Julia Perry
This content is created and maintained by a third party, and imported onto this page to help users provide their email addresses. You may be able to find more information about this and similar content at piano.io